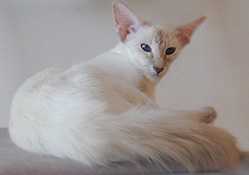 Balinese are long-haired Siamese
(Ch. Aldinia della Luna di Tina)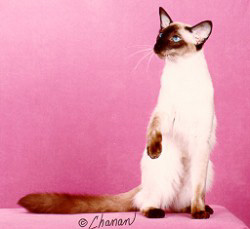 seal-point Balinese
(Am.GC Balijoy Michaelangelo)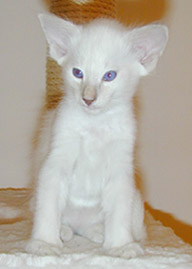 Balinese kitten
(Livius Verus of blue Moon)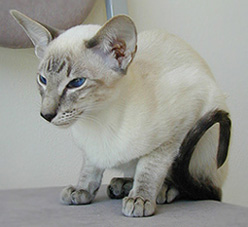 Siamese Variant blue-tabby-point
(Halim-Sha of blue Moon)
The Balinese is a svelte cat with long, tapering lines and a light but strong body structure. Because of its longer fur, the Balinese appears to have softer lines and less extreme type than the shorthair Siamese. Because of its Siamese history, the Balinese has deep, vivid blue eyes and pointed colors. This means the colour is seen only on the coldest parts of the body. All Balinese and Siamese cats are born white but gradually develope their colour on the face, ears, paws and tail. The rest of the body is lighter. The point colour varies from rather light to almost black. Today, the Balinese cat can be bred in around 20 different colours and patterns of the points, including the white Balinese without any points. The green-eyed orientals without points are called Oriental Shorthar or Longhairs.


Elegance on four feet

The Balinese did not got without reason its name from the graceful dancers in Bali. There is something very special about the graceful and elegant carriage of this cat. The blue eyes and the exquisite coat on the long muscular body adds to the aristocratic expression.

The head of the Balinese forms a long, tapering wedge with a long, straight profile. Ears are large and continue the wedge. Eyes are blue and almond shaped. In fact, the Balinese is exactly like a Siamese except for the coat, which is medium in length, fine and silky without a downy undercoat. It lies close to the body, flowing toward the rear where it ends in a graceful, plumed tail.


Affection personified on four feet

If you decide to buy a Balinese you should consider that you will get a new member of your family. A Balinese is affection personified on four feet. Especially if they are kept alone they get extremely attached to "their person". A Balinese loves you, and you must be informed about this at frequent intervals. When you sit down, he sits, too - on or beside you! When you go to bed, so does he, - and if you allow - of course on top of your cover, or under them, pressed like a plaster to your back or side. This way you being sung to sleep to the tune of his thunderous purr of satisfaction. This is why for many people "once an oriental cat, means always a an oriental cat". It does not matter which of the 4 oriental breeds (Siamese, Balinese, Oriental short- and longhairs) you take, the temper is more or less the same.


Intelligent, Communicative and Full of Temper

Siamese and Balinese cats are regarded as one of the most intelligent cats. They learn extremely quick, are curious about almost everything and you can be sure that they always have new ideas how to get your attention. They are full of temper and love to play their whole life. Often they fetch toys like a dog when thrown and make excellent playmates for children.

All oriental cats are very "communicative" and love to "speak" with their owners. Especially if you come home and a pair of sparkling blue eyes is awaiting you at the door, there is always a lot of things to tell. During the years you will learn the meaning of the many different sounds they can make.


How to keep them

Balinese are easy to care for, because they have a single silky coat that lies close to the body. All that is needed is an occasional brush or comb and routine nail clipping. A good diet and plenty of exercise are essential to maintain the Bali's firm, tubular body and silky coat.

Balinese and Siamese love to live in groups, and if you have a couple or more orientals, they will often share their whole life in close friendship. Especially if their owner is not at home, you will often found them sleeping entwined around each other. It is always recommendable to keep at least 2 of these affectional cats together. They are generally very good natured, mixing also very well with other breeds or even other pets, and are content to live indoors, if they are used to it and get enough attention.


Variants

Short-haired Balinese and Oriental longhairs, known as Variants, may also be seen as breeders have constantly bred back to top quality Siamese and Oriental short-hairs to improve the type and eye color of Balinese and Javanese. They have a short plush coat and are invaluable in a Balinese or Javanese breeding program.