Bola's blue Olivia

This was my first Balinese cat. I bought her in 1989 from one of the first Balinese breeders in Switzerland, Ruth Rüttimann (cattery von Manderley). Olivia's mother was from the Del-Ri's cattery in the United States, where the Balinese breed had already made much more progress. Nevertheless, the type of Olivia was not like a modern balinese should look, but I could achieve a first improvement by mating her to variant boys.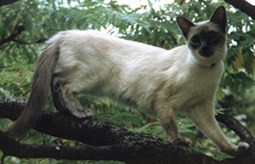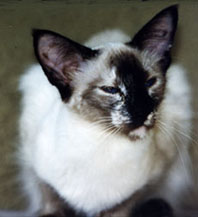 Ch. Contessa von Manderley

In 1995 a new Balinese girl, mainly from the English Apricat lines arrivied in our cattery. Contessa showed the typical "English type" with a wonderful ear setting, excellent eye shaping and a very good quality of coat. Our plan was to combine these advantages with the refinement of the US Balinese.
Tassam Montgomery Scott

In 1996 Scotty, our first pure US Balinese arrived in our cattery. Claudia Ming from the Neko no Shiro cattery in Switzerland helped me to get this lovely boy. I was so impressed about the great temper and the refinement of the Tassam cats that we decided to focus our further breeding on US Balinese.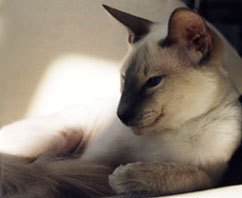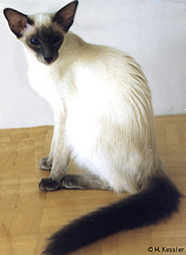 Ch. Purrmatix Blue Moon

In 1998 Terrie and Bruce Smith from the Purrmatix cattery in New York trusted us this beautiful girl. She came together with her half brother Purrmatix Spaceman to our cattery. Blue Moon was from an exquisite refined type that we never saw before. We were so happy to have her here as the base for our further breeding.
Ch. Aldinia della Luna di Tina

In 2000 Aldinia came to our cattery. Aldinia carries mainly Tassam lines, but in the third generation behind, one line is British (Contessa von Manderley). This line maybe responsible for the good quality of her coat. Aldinia has a special charisma and is in the lines of most of our present breeding cats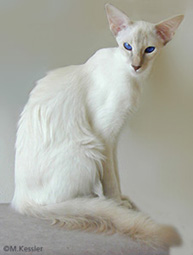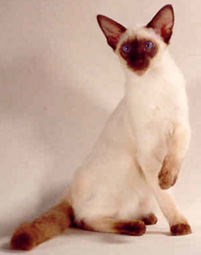 Am. GC Bali Babies Moonraker

Moony is our first chocolate-point balinese. He comes from a very loving home in the United States and has the unique character of a Teddy baer. He was mated in 2002 to Fara Faida of blue Moon. One of the kittens came to our cattery (Koko), one little boy went to cattery Shamwari in the Netherlands.
Am. GC Balijoy MichaelAngelo of Purrmatix

It is a great honor for us that Terrie Smith from the Purrmatix cattery trusted us this wonderful boy. Mikey brought at Purrmatix cattery extraordinary offspring, including many national and regional winners. And the best: Mikey has a most adorable temper. In 2003 he brought us two gorgeous litters. We have kept two of his kittens in order to contiue with these excellent lines.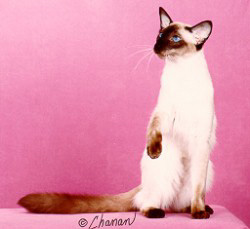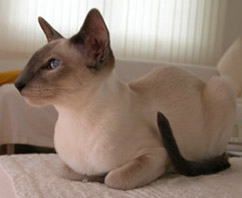 USA*Edelweiss Moonflower

This US Variant girl came in 2005 to our cattery. Moonflower carries some very successful US Balinese lines as well as some interesting Canadian Siamese lines. Most remarkable is her perfect profile, that she hopefull will pass on to her offspring. We thank Gisela Zanelli from cattery Edelweiss and Terrie Smith from cattery Purrmatix very much for this lovely girl.