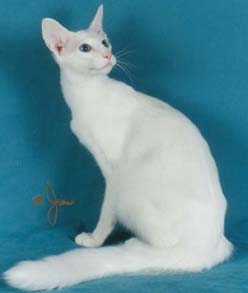 GC, BW, RW Purrmatix The Blizzard-of-Oz
blue-eyed white Balinese male
Br/Ow: Terrie & Bruce Smith, USA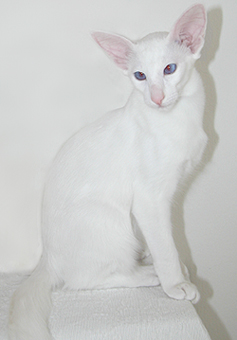 Livia Drusilla of blue Moon
Balinese foreign white kitten
Breeding

If a blue-eyed white Siamese or Balinese is mated to a green-eyed oriental, white kittens with green eyes or odd eyes (one green eye and one blue eye) are possible. However, Foreign Whites with any other eye colour than blue are not accepted in the European FIFE and in the British GCCF.

When the names of all the other colors of Oriental shorthairs and longhairs were changed from "Foreign" to "Oriental", here in Europe the Foreign White retained its original name. This underlines the fact that the breed is recognozed as a blue-eyed Siamese/Balinese plus a white coat, unlike Oriental Whites recognised in the US, where green eyes and odd eyes were also permitted.

A common problem of blue eyed white cats of many breeds is partual or complete deafness. Luckily, this is very rare in the foreign white Siamese. Strict breeding and rigorous selection have produced a white cat with deep blue eyes and almost no deafness problems. This is because Foreign Whites genetically get their blue eyes from the Siamese, rather than from the gene which is responsible for blue eyes in other breeds. From a paper about Foreign Whites (M. Raadsveld, Het Syndroom van Waardenburg bij de Foreign White kat) it is clear that the percentage of deaf Foreign Whites in England (637) and the Netherlands (200) can be ignored as it is 0.8% and 0% respectively. (More detailed information gives the followiing article by Hetty Berntrop, Thao thai Siamese: About 30 Years of Foreign White Breeding.)


Genetics

The white colour of the Foreign White is dominant over all other Siamese and Balinese colours. Under their fur foreign white Siamese carry the points pattern. This makes heredity simple. A mating of a Foreign White with a pointed Siamese/Balinese leads in average to 50% foreign whites, the other 50% of the kittens will show their points. It is often difficult to determin the exact genetic code of a foreign white, due to the white line in the pedigree, that hides the colour of the point pattern underneath.

It is not allowed to mate two foreign whites, as this could strenghten the Waardenburg syndrome (blue eyes related to deafness). Some breeders also recommend to avoid the mating of foreign whites to red-, creme-, and tortie-points.